As a golfer, if you need stay on track with more precision hitting your golf clubs, you should get a golf swing trainer. If you are reading this, read to gain more information on these top 10 best golf training aids of all time. We've spent our valuable time to test and review these fundamental golf training tools for you.
Why do you need a swing trainer? You should opt in to this special swing speed training for the proven benefits hoped for, try Swing master golf swing training aid. The reason you should get a swing trainer explains if you need to acquire more detailed feedback on your swing mechanism, and a head start on practicing your golf. Swinging is one of the most crucial golfing skill expected of every player. Without a proper swing technique, you unfortunately cannot impress anyone as a golfer.
Meanwhile if you feel you should improve on your swing ability and speed, the option is to opt-in to a speed trainer. Rypstick golf trainer and superspeed recently introduced is making greater impact in terms of the feedback accuracy and improvement hints suggested.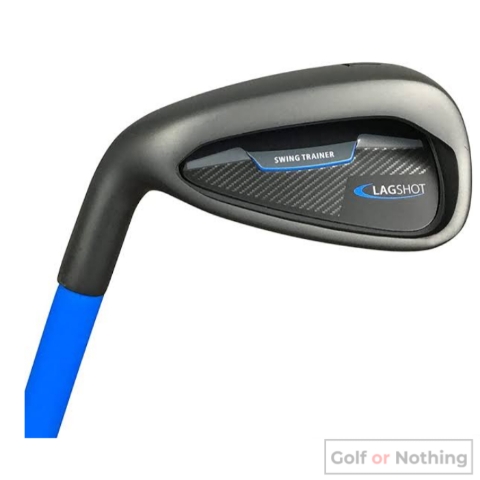 Lag Shot 7 Iron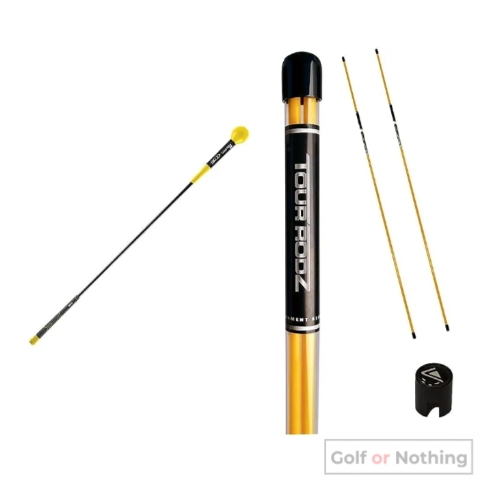 SKLZ Gold Flex Golf Swing Trainer
From GolforNothing Test Crew
During our careful review and testing procedures, our most favorite swing trainer, the Lag Shot 7 Iron and SkLZ Gold flex shot swing trainer warm-up stick performed outstandingly in the business of preventing injuries in the muscles, and other golf-muscular parts of the body, they developed our golf swing muscles, and with a nice tempo, plane swing maintaining ability, and at the same time, straighter ball shot.
Top 10 Best Golf Training Aids of All Time
Lag Shot 7 Iron(Tempo, Rhythm and Swing Plane)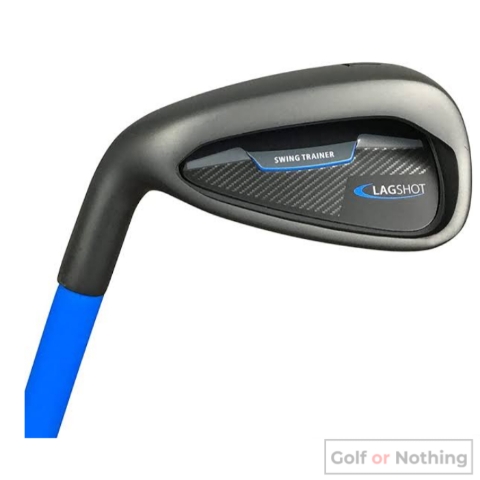 What We Like
Pays attention to swing plane and tempo.

It helps swing on overall swing mechanism.

Offers adequate feedback and swing accuracy.
We made no mistake ranking the Lag shot 7 iron first on our list of the best swing speed training aid of all time; it' s sure a worthwhile golf accessory, worth investing on. The lag shot 7 iron was created with the aim to effortlessly help players on feel, on-plane swing, ideal rhythm and tempo. It is a 7-length iron with loft and lie angle, but comes with a heavily weight club head and shaft ideally basics in developing swing mechanism for added improvement.
Want to hit with a traditional golf clubs on tour session? Lag shot 7 promises that within 10 swing days, you' ll gain a better golf swing tempo, more consistent center contact, a straighter and speedy shot. Thanks to their super flexible shaft, and club head that help force players hand to keep their swing on pure plane motion, and with a smoother and better tempo, which results in the straighter shot.
SKLZ Gold Flex Golf Swing Trainer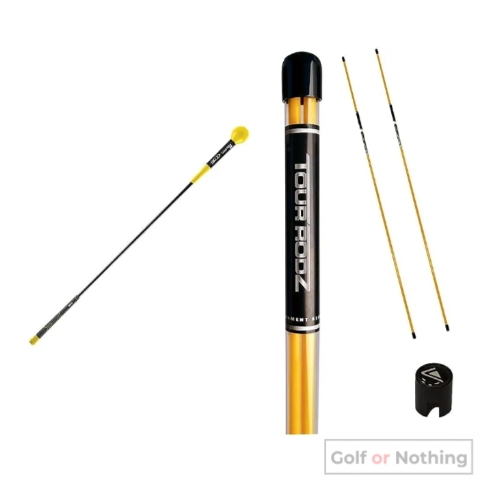 Why We Like It
Focuses on fitness, tempo and swing plane.

It' s a very popular choice of training aid among most professional PGA Tour Players.

Very easy to use.

Runs on affordable price.
The Sklz gold flex golf swing trainer is a very popular golf training aid commonly found in PGA Tour Players' bag. No detailed information regarding this premium swing trainer is considered complete if not touchline the major aspect of golf swing speed it focuses mainly on, this include swing temp, swiwng plane and fitness.
Golf Swing Tempo; That aspect when you feel the wave of elongation and extension that stretched and loosen in your golf swing-specific muscles.

You can feel the tempo on muscular regions of your body like shoulder, hips, oblique, diaphragm and back usually after the first few swing, but generally get used to it when you might have swung consistently and develop on this aspect.


Swing Plane; The Sklz golf swing training aid works byu forcing your swing plane to become more flat and stable that it reduces hook and slice in your golf game. Thanks to its heavier weight.

Fitness; The trainer also work by adding extra muscular endurance to your golf-specific muscles. It' s super flexible and easy to use.
After swinging 5-10 minutes each day for 10 days, I was able to begin hitting farther and straighter than before. I then learned to start getting a longer shot off the tee with the sklz swing speed training system ~ golfornothing test crew member. 
Orange Whip Swing Trainer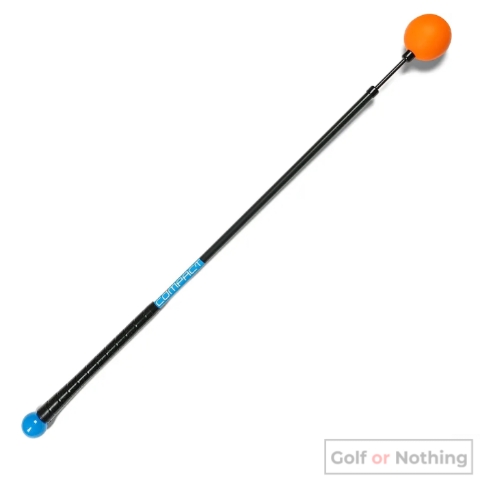 What We like
It stretches every golf-specific muscle .

It forces Forces your Rhythm and Tempo to look like Ernic "The Big Easy" Els Golf Swing.

It's crucial for teaching proper swing body sequence.

Can be fixed in an hybrid golf bag.
The orange whip swing trainer was rated the #1 teaching and training aid by PLGA professionals and PGA Tour players as well. The tool was designed for the very aim of helping you balance your swing plane while reducing hook or slice on your ball flight's direction.
How does the orange whip golf trainer works? It works by stretching, strengthening and loosening your golf muscles thereby preparing for a more shot shaping even with a heavier ball and shaft.
Under the hood, the orange whip swing trainer features a flexible shaft and a counterweight mechanism at the butt of its grip.
While swinging with this golf training aid, you'll be forced to notice your swing mechanic and tempo on the process. Thanks to its weighted head which throws the body off-balance, forcing you to stop the continuous motion.
It peak stretches the golf muscles and then loose when the motion is stopped. This practice has always been useful in warming up your muscles, strengthening them, and adding more depth of rhythm before you step in to play your round.
More interestingly, you can also use it in between each round played in order to regain the frequency of tempo to perfect your body sequencing to match.
Recommendation
After following our extensive research and testing procedures, the result we gathered makes us think we are on the safe side recommending this golf equipment as the best in teaching and training types of golf training aids. Click here for current price.
Flight Scope Mevo + (All-in-one launch monitor & simuator package)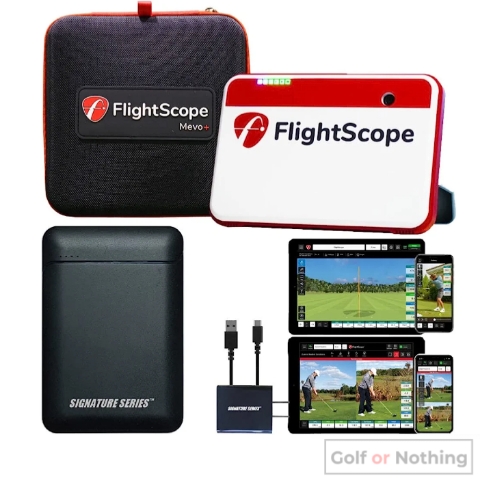 What We Like
It incorporates the functionalities of both golf launch monitor and simulator.

It records data more accurately to help on where there's need to improve.

It records up to 25 metrics from player's full swing, chipping and to even putting.

It includes 10 free simulator courses and 17 driving range games.
The Flightscope Mevo+ is one of our best rated golf launch monitor packages under $1000. It works by the infusion of a synchronized high-speed image processor and 3D deeper-tracking technology that feeds you with the most accurate and reliable swing data, and even in all aspects of your golf game round.
Superspeed Golf Training Aid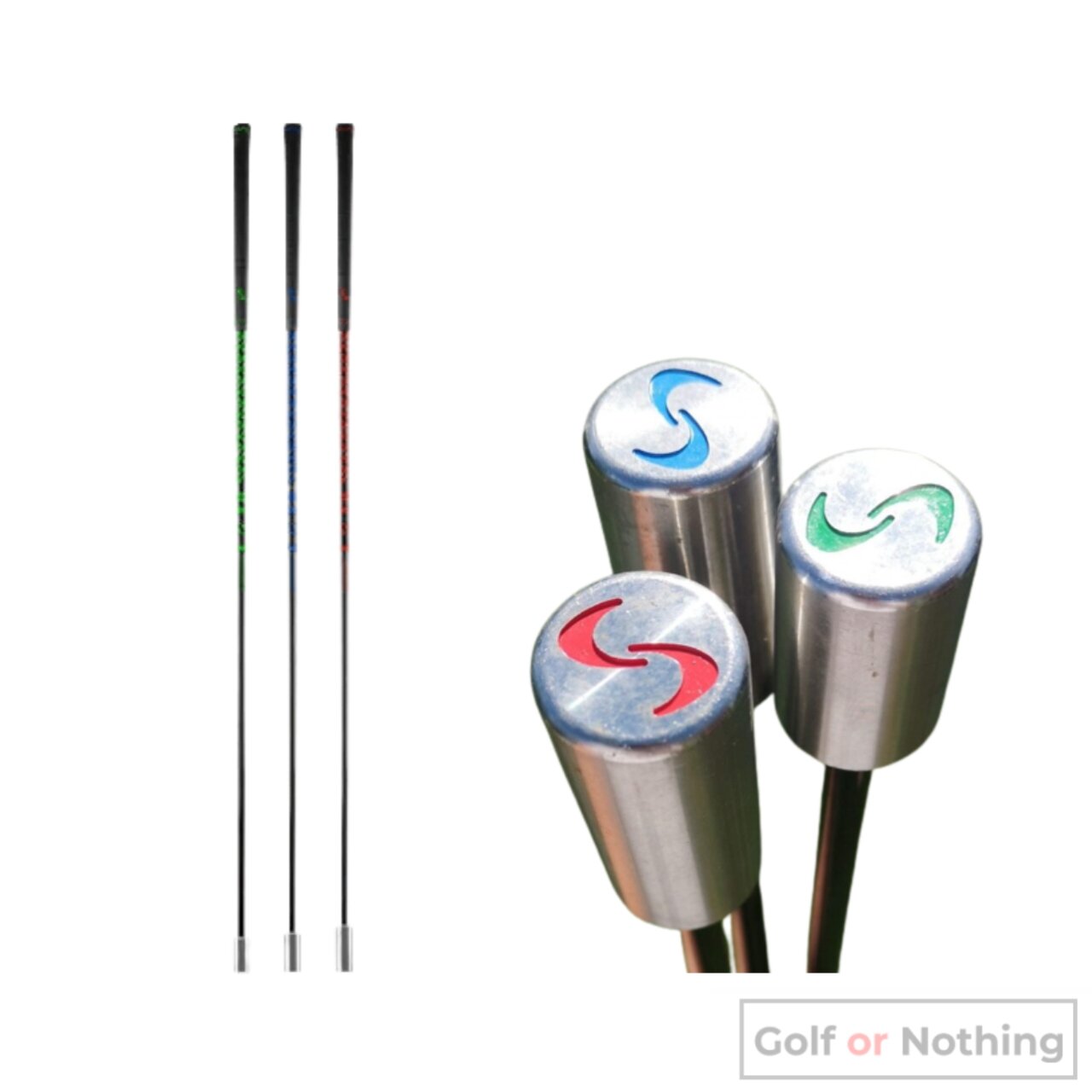 What We Like
It features three sticks that trains muscles memory and muscle speed.

It is easy to use, and not time-consuming.

It has the ability to increase speed by over 10 mph.

Best for home speed workouts.
If you need a reliable golf swing speed trainer, the superspeed golf training aid was crafted-designed for this purpose. In our previous article, we deepen into a comparative guide between superspeed vs sypstick golf training systems.
It was also reported that superspeed has helped over 600 tour professionals and LPGA players gain more acquired swing speed and distance training with the 3 sticks.
Meanwhile, if you are training with the superspeed, you are required to subsequently use these 3-clubs 'the green club'(lightest club), 'blue club'(medium weight club), and 'the red club'(the heavy club).
You'll have to swing each of the clubs 10 minutes for 3 times weekly, and you'll typically gain 5-10% of your swing and yards off the tee respectively.
Rypstick Golf Training Aids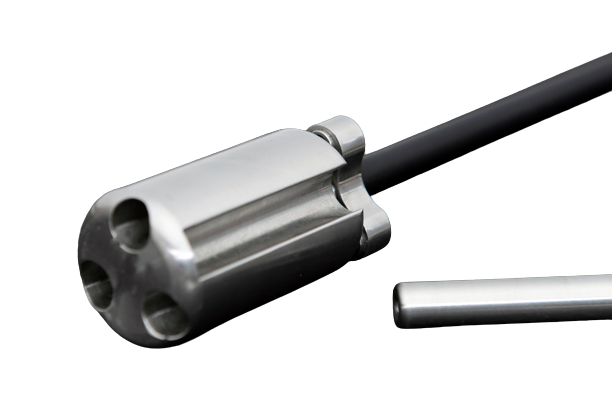 What We Like
It offers best option for distance and extra roll.

It features a counter-balance mechanism.

It features single speed stick for a more focused and efficient training experience.

It comes with optional coaching and fitness program.
Though the training aid is new to the golf equipment marketplaces, but still find its way to rank on our comprehensive list of the best golf speed training aids. It is designed to help players gain more improved swing speed and overall performance on ball speed.
The rypstcik is a single-stick golf swing training system, that rather not use multi-stick, but a streamlined design that calls for more focus, resourced and satisfied golf training experience.
More interestingly, the rypstick golf swing speed trainer comes also with golf coaching, fitness and speed training program that means a lot, especially for amateur golfers who'd not need to pay for expensive golf courses anymore. Their coaching course offers comprehensive experience that covers all aspect of your swing techniques.
Dewiz Golf Watch Swing Analyzer(Best Rated Analyzer And Modifier)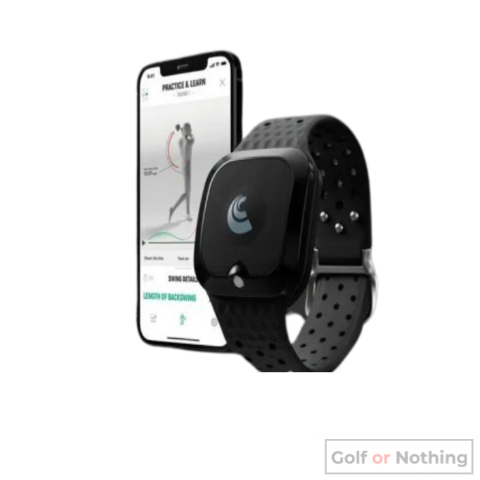 What We Like
It reads and records accurate real-time data/update on your swing performance.

It features advanced GPS technology for distance tracking, front and back of the green including bunkers.

It's smart and portable, with lasting battery life.

Their mobile app includes intensive training materials(learn and practice mode).

Affordable and easy to use.
The Dewiz Golf watch analyzer is meant for measuring key metrics, and for providing feedbacks on your swing performance and behavior. What makes it one of the best golf training aid? I think it's comprehensive training materials and user-friendly interface makes it outstanding.
Its a wearable wrist watch, with range of features that would inspire any golfer to take his golf game to the next level. With this machine, you can measure key metrics on your game including distance, swing speed, club path and other necessities that help gain you improvement on your playing habits.
The sweetest thing about this watch is its ability to look into real-time updates on hazards and bunkers if found around the green. In addition, it is loaded with thousands of golf course maps from around the world. This will enable you locate and navigate the best golf course near you.
For more information and user experience, tips and step by step guide on how to connect this watch to its mobile app and start navigating the built-in courses, read our detailed review of the dewiz golf watch swing analyzer and modifier.
Divot Board Low Point Swing Path Trainer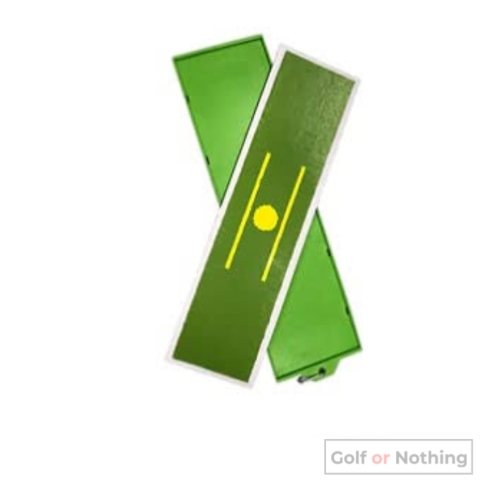 What We Like
One of the best golf trainers that offer instant feedback on swing path.

It is made of lightweight yet, highly durable materials.

Can train contact and swing in a single platform.

It has options available for left or right-handed Golfer to use accurately.
Are you more comfortable with your thinning shot? How about chunky shots? You ain't comfortable with such shots, you deserve to hit a nice shaping shot. We've tested for clients who were suffering the two shot habits, the best golf training aid to fix the problems with ease, and we found out the Divot Board Low Point and Swing Path Trainer was perfect in diagnosing and fixing the problems.
Here are the critical areas the divot swing path trainer focus on:
It improves the low point of our golf swing.

It checks golf swing path to detect if we make solid center contact.

It also detect the center of our swing and strike.
Golfornothing Review Crew
If you are a beginner or amateur golfer, I would love to recommend this tool. Even if you think you can swing, it will happen that you must have troubles on compression, and first-time ball hit. Check out the divot board low point and swing path golf training aid.
It's lightweight and durable too. It even has a clip designed to be clipped to your golf bags for easy transportation.
Callaway Swing Easy Golf Training Aid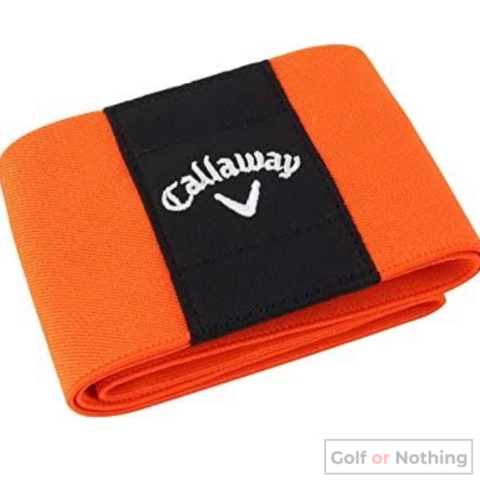 What We Like
It's the bests backswing mechanics and fundamental training aid.

Made by a reputable golf equipment manufacturer, callaway.

Most affordable training aid on our list.

Very lightweight materials that can be rolled to wallet size.
Is your arms are giving you discomfort feel during your backswing? Do you want to swing like a pro? You should swing to that level that if you watch yourself swinging from a television, you start feeling sweet-body. Callaway swing easy golf swing trainer can help you turn the dream into reality.
The callaway easy golf swing trainer is an easy-to-use tools with convenient one-size-fit-all design that's typically accessible by both left hand or right hand golfers. It was noticed that the tool works by forcing our arms, chest and upper body to move at equal speed and stay intact during backswing. It's a highly recommended fundamental golf swing trainer.
Winner Spirit Real Swing 300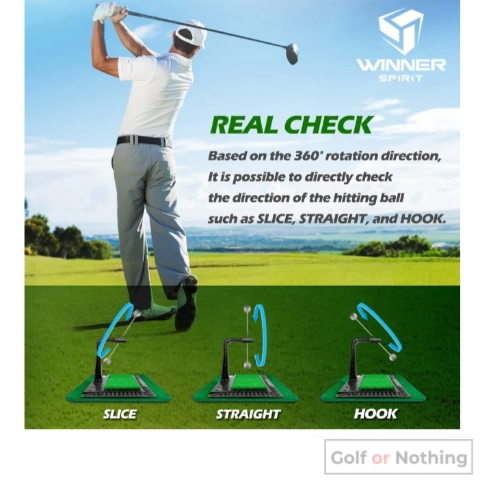 What We Like
It prevents early head lift and also trains swing path.

Options available for right or left-handed golfers.

It offers immediate feedback on swing path.

Once hit a golf ball, you can feel the tempo, which is ideal for better practice and feed back.
If you've been to a live golf course around you, or maybe you'd stream golf training on electronic gadgets, you should all hear "keep your head down". Yeah, we all hear the advice severally. But what is wrong with lifting your face to know where your ball is going? Everything.
The rules do not permit that, but there is a good news. The good news is that the winner spirit real swing 300 can help you practice your swing anywhere, knowing the direction of your ball(hook, slice, straight) without lifting your head to check.
The winner spirit golf swing 300 features a construction that requires no battery, but works perfectly in training swing path. It also has options for both right and left handed golfers too. With one iron, I was able to practice fairway wood shot, drivers shots, and iron shots with the fairway height using this product. You can get it from golf-specific marketplace or amazon.
Frequently Asked Questions
In golf, the ration of backswing time to downtime is known as tempo. Study shows that the average tempo of a tour player is between 2:1 and 3:1 respectively. 
Golf training tools like swing plane trainers are very crucial tools needed for your golf swing ability and performance.
The tools are useful as they also help reduce the issue of hook or slice in your balls direction, when shot with golf club.
You may not be permitted to use a training aid during a round in your golf course. However, you, you are permitted with you a towel glove, hat and few lesser accessories. But always get hand-on info on your course to take note of the requirements.