Over the years, golf equipment manufacturers have developed the best super-game improvement irons designed with cutting-edge technology proven to have helped very many beginner golfers swing with precision. Unlike player's irons, super-game improvement irons boast an exceptionally wide sweet spot.
The primary goal behind developing super-game improvement irons is to cater to novice golfers and seasoned players who may have lost some of their natural swing strength. If you find that game improvement irons aren't the perfect fit for your swing ability, it's likely you're a total beginner with a relatively high handicap. Without much ado's, here are the top three super-game improvement irons I recommend for new golfers especially: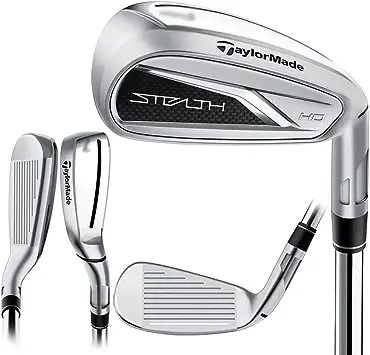 TaylorMade Stealth HD Irons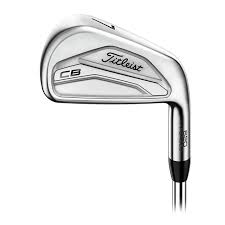 Titleist T6201 Iron Sets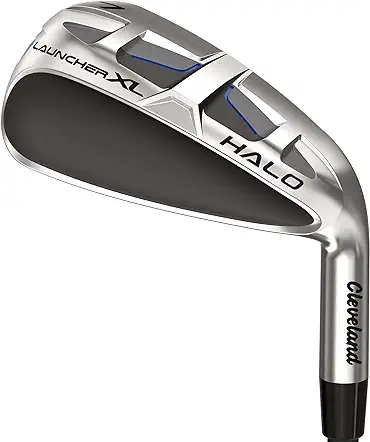 Cleveland Launcher XL Halo Irons
What Is Super Game Improvement Iron?
So, what exactly are super-game improvement irons? These irons are known for their user-friendliness, incorporating advanced technology into one over-sized club head. They offer superior improvements compared to game-improvement irons, especially for golfers in the early stages of their golfing journey.
The wide sole of super-game improvement irons ensures a high ball flight with effortless launch and excellent turf interaction under all conditions. Their large cavity back in the club head allows for ultimate perimeter weighting in the heel and toe. Coupled with an extremely low center of gravity, they offer stability and control at its best.
Moreover, the increased face size instils confidence at the address, with a bulky top line and a fast face spring effect that enhances ball speed on contact, resulting in more distance on your shots. These features combine to offer an exceptional feel and forgiveness, even on mishits that fly straight and far.
The perfectly weighted head reduces side spin, minimizing hooks and slices. Golfers with lower to medium swing speeds will relish the consistency and distance these irons provide, while offset heads make it easier to turn over through the strike.
Now, let's delve into how the best SGI irons (super-game improvement irons) differ from regular game improvement irons. Keep scrolling.
Super-game Improvement vs. Game Improvement Irons
Super-game improvement irons are often labelled as ideal for "newbies" who currently use an old blade set or a family hand-me-down. These irons feature slightly offset heads, which assist in turning the club over at impact. More to note about the best super game improvement irons we have reviewed heads are larger than traditional sets, with a thicker top line.
Game improvement irons, on the other hand, have the mid to lower-handicap players in mind. These irons also provide forgiveness, consistency, and distance for golfers who have been playing for a few years but not extensively. This category includes muscle or cavity back irons, known for their lower center of gravity, fast face technology, and slightly wider soles, which contribute to easy launch and favorable turf interaction.
Our team dedicates thousands of hours to test and research golf equipment, all in an effort to help you elevate your game to the next level. Here's an overview of our product review process:
We are able to provide these review from the small commissions we earn if you make purchases through the links on our website. However, this doesn't deter us from our mission of radical transparency.
To stay true to our mission and prioritize our readers, we are actively working towards becoming solely reader-supported. Our satisfied readers who have gained value from our reviews and the knowledge we share often

show appreciation

in diverse ways.
After thorough review and club testing procedures, we have identified the best super-game improvement irons based on these criteria: Cost, Forgiveness, MOI, Distance, Spin, Launch Angle, and Control.
Now, here are the best super-game improvement irons we've tested and confirmed as the top ten:
The Top 10 Best Super-Game Improvement Irons Of 2023
TaylorMade Stealth HD Irons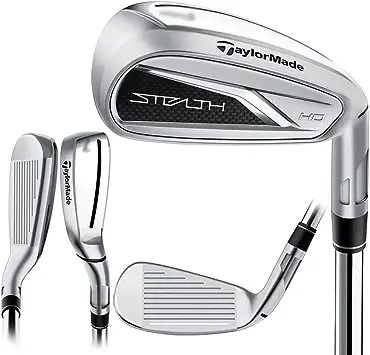 Why We Like It
Stability

Inverted cone technology that improves forgiveness

Draw bias that reduces slice

Ultra-thin club face for maximum distance and accuracy.
Verdict
The TaylorMade Stealth HD game improvement iron stands out as the longest, most stable, and forgiving iron in its category. It incorporates the latest TaylorMade technology into an oversize, low CG head design. The wider sole, draw bias design, True-Slot Speed Pocket, and stronger lofts result in irons that deliver considerable distance, even on mishits.
Another outstanding feature of the iron is the Inverted Cone Technology(ICT) that ensures maximum face flexibility and ball speed, while the Cap Back design ensures a great feel and forgiveness. The 360-degree ultra-thin, undercut face creates an incredibly low CG for a penetrating ball flight.
If you ask me, I would say 'truly it's a super-game improvement iron set that lives up to its promises'.
Find more information, prices, discounts available.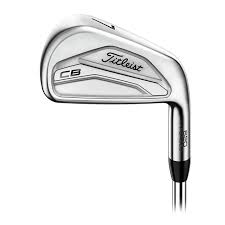 Why We Like It
Long mid-size head for maximum forgiveness.
Fast ball speed.
Straight launch.
Lower CG for increased launch angle.
The Titleist 6021 Iron Set features a modern mid-size head shape with a thinner top line and less offset, making it appealing to various player classes but particularly effective for high handicappers seeking the latest tech to elevate their game. Titleist has a history of producing game-changing irons within the T-series, and the T300 is hailed as their best-ever game-improvement offering.
This iron is also seen as a super-game improvement iron, due to its technology., maximum forgiveness, Increased MOI, achieved through the longer mid-size head perfectly balanced with tungsten weighting in the toe of the club. The T300 series delivers exceptional performance, If you ask for price, use the link to check prices. note, prices vary depending on the store. buy with convenient budget from amazon.
Cleveland Launcher XL Halo Irons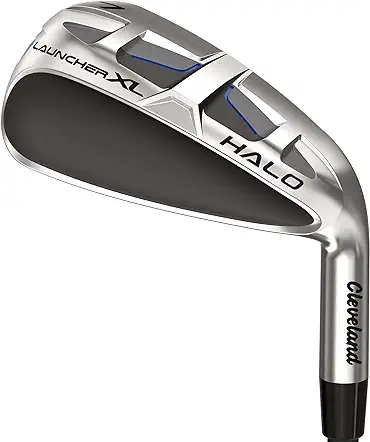 What We Like
Exceptional forgiveness.
Large sweet spot.
High Moment of Inertia (MOI).
The Cleveland Launcher XL Halo irons present a radical departure from traditional game improvement cavity-backed irons available today. The Cleveland Launcher XL Halo set consists entirely of hybrid-like clubs that may appear conventional from the front but offer a distinct profile from the top view.
Cleveland manages this hybrid-like construction by progressively adjusting the sole width, with wider soles in the lower lofts and narrower ones in the higher lofts. This design ensures great turf interaction across the set, regardless of conditions.
The Hi-Bore Crown aids in lowering the CG in the lower lofts. Forgiveness is at the forefront of these super-game improvement irons, packed with technology innovations such as AI turf face technology and a wide sweet spot. The only ill with this iron is that of availability. they always run out of stock.
Check for the current models, and prices of cleverland golf
Callaway Big Bertha B21 Iron Set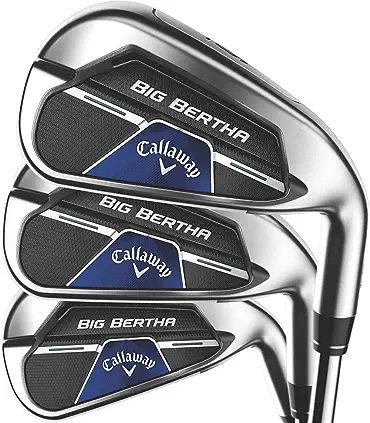 What We Like
Enhanced launch.
AI tech for improved stability.
Callaway's patented flash face technology.
Energy core improves launch conditions from any lie.
Callaway's Big Bertha irons stand out as their best super-game improvement irons, engineered to promote and balance confidence throughout the set.
These irons are designed for distance, featuring a large body and a deep CG, and are packed with the latest Callaway innovations, including artificial intelligence technology. 
The best super-game-improvement irons feature Flash Face Cup(FFC), a technology designed to aid high ball speeds, along with increased spin. and precision too.
Read Callaway Big Bertha's Customers Reviews.
Wilson Staff Launchpad 2 Irons
        What We Like
Significant extra distance manipulated from the hollow body design.
Easier hybrid-style stroke.
Added weight helps from thick lies.
It facilitates hitting mid and long irons effortlessly.
The Wilson Staff Launchpad 2 Iron Set is an excellent fit for the super-game improvement category, catering to high handicappers and social players alike. These irons are designed to effortlessly launch the ball with distance, forgiveness, and confidence from various lies, including the rough and fairway.
After experiencing these Launchpad irons, you'll appreciate the feeling of hitting a mid-iron from a challenging lie and watching it fly straight and true.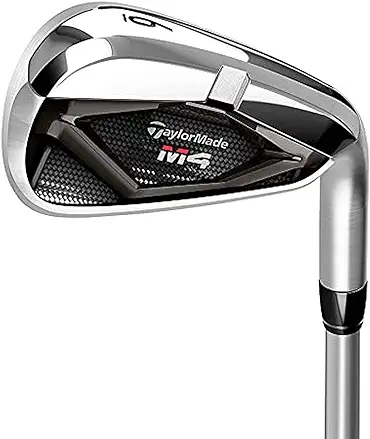 What We Like
Substantial sweet spot for blade-style clubs.
Fast and high launch.
Hydro-pearl chrome for all-weather play.
Tungsten toe weight increases MOI.
TaylorMade rates the M4 iron as the fastest in their M-series. It boasts impressive ball speed off the face. These irons feature a metal-wood-style variable-thickness face and internal geometry that enhances ball speed and flex for high launch and green-stopping power.
It has a cascading sole and top-rail undercut combine to deliver a faster, higher launch. Added with a tungsten toe screw and hosel weight that expands the perimeter weighting, increasing the sweet spot's size.
On a normal, while the blade length appears traditional and short, MOI is enhanced.
Cobra Golf T-Rail Combo Set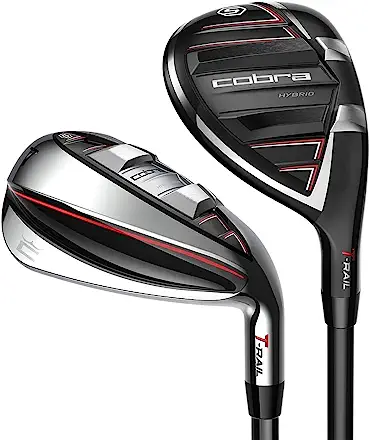 What We Like
Increased power from hollow-body design.
Variable face thickness corrects off-center strikes.
T-rail soles for playability on any lie.
Forged face provides excellent feel and feedback.
The Cobra Golf 2023 T-Rail Combo Set is an excellent choice for beginners, featuring a progressive set design that enhances performance and forgiveness across each club. The T-Rail irons are forgiving, with deep undercut cavities and hollow body construction to maximize forgiveness even on off-center hits.
The progressive set design ensures an optimal combination of distance, launch, and forgiveness with each iron. The set is equipped with high-performance graphite shafts for a lightweight yet powerful swing.
Powerbit Ex-550 Hybrid Set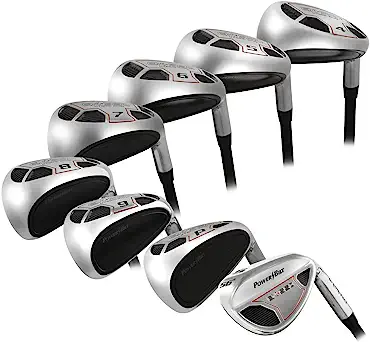 Why We Like It
Budget-friendly.

Easy launch.

Lightweight for improved swing speed.

Deep cavity back for maximum forgiveness.
The Powerbilt Ex-500 is a hybrid super-game improvement iron set. The long irons feature a low CG for high, easy launch, while the mid-irons have the CG positioned in the middle of the face for medium launch. Wedges and short irons place the CG high on the face for a lower trajectory into the green.
These irons boast the lightest shafts and club heads ever produced by Powerbilt. The deep undercut cavity design increases clubhead speed and promotes higher launch, while good spin rates and a lightweight airspeed shaft deliver distance without compromising stability.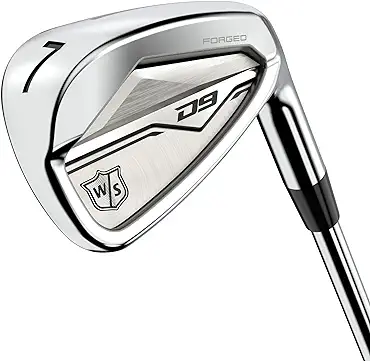 Why We Like It
Ultra-lightweight for increased swing speed.

Increased shaft flex for added power.

Minimal offset allows for shot shaping.

Progressive sole design for versatility from any lie.
The Wilson Staff D900 irons feature a sleek, modern design that distinguishes them as a superior set of super-game improvement irons.
They harness advanced technology to provide a high level of performance. Notably, the ultra-lightweight construction of these irons ensures maximum forgiveness for off-center hits, optimizing ball flight.
       Why We Like It
Made from lightweight yet sturdy materials.

Undercut design increases launch angle on all irons.

Shafts specifically designed for women.

Includes a sand wedge.
The XX10 Women 12 Iron Set features a set of clubs made from lightweight, robust Ni-Ti material. This ensures consistent, powerful, and accurate performance.
These clubs are tailored to the specific needs of female golfers, offering excellent control and accuracy.
How We Reviewed These Golf Products
At GolforNothing, we don't share what we don't know, we pay attention to trusted brands. But we aren't endorsed by any. It took us and our team of golfers hours and days to complete a tour of golf product research to carefully evaluate the products we shared above. On the course of credibility, an editor reviewed and fact-checked the list. Finally, we conduct regular content audits to update and revise our reviews to ensure you receive the latest information. Kindly subscribe to our newsletter to get our latest golf update straight to your inbox without spamming.
Frequently Asked Questions