If you are looking for an in-depth Callaway Edge set review, I have every information about the club set covered in this article.
Apparently, we know golf game as a very interesting game of choice – fantastic and stress-free sport. But the truth is that this game requires set of equipment like Disc golf shoes, golf drives, launch monitors and other golf sport equipment which make every pro golfer. This page is ideally an unbiased Callaway Edge Set Review.
Callaway Edge is a set of golf instrument designed for beginners and high handicappers who are looking for a complete set of golf clubs at an affordable price.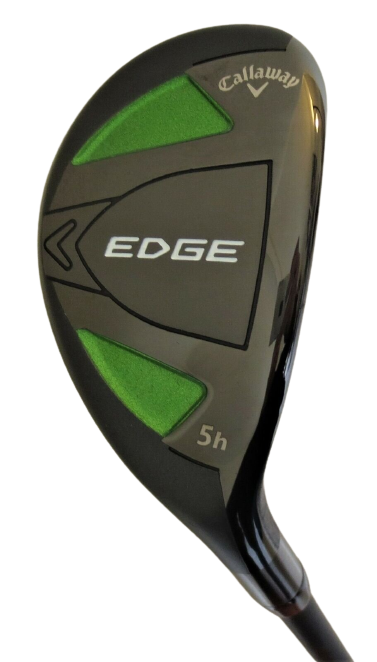 Callaway Edge Drive
Key Features
Explosive ball speed
Low center of gravity
Good turf interaction
Callaway Edge Set Club Overview
This golf club comes with a complete set of clubs designed to provide high forgiveness and distance for low and mid-handicappers. The set includes a 3-wood, 5-hybrid, a driver, five irons, and 2 wedges(putter and sand wedges).
We will explicate each of these components, read on…
The Callaway complete edge set includes a driver, fairway woods, hybrids, irons, and a putter, all designed to help beginners improve their game.
The Callaway edge set also comes with lightweight graphite shafts. The graphite shafts help to increase swing speed, while the iron shafts provide additional control and steadiness.
What Are The Pros And Cons Of Callaway Edge?
Pros Of Callaway Edge
Balanced combination of clubs
The Callaway Edge set includes a well-balanced combination of clubs, including a driver, fairway woods, hybrids, irons, and a putter. This is great for beginners so you have lots of options and can work on all aspects of your game. This is to say if you're having issues with one club, just switch to one of the many others.
Explosive ball speed
The driver produces fast ball speed to deliver increased distance. This is a high-quality driver that you can not only learn with but benefit from as well. It's recommended for both low and mid-handicapped golfers.
Low center of gravity
Another important truth about the Callaway Edge set is its low center of gravity (CG), which can help golfers achieve higher ball flights and longer distances. Yeah! a low center of gravity in the club head can promote a higher launch angle and reduce spin rate, resulting in a longer ball distance.
Good turf interaction
The 5-hybrid provides exceptional turf interaction for a clean strike from any lie. Don't forget, When a golf club interacts with the turf in a positive way, it can result in better ball striking and increased accuracy. So if you are a player looking to achieve consistency in your shots, maximize distance and control, the Callaway edge set having a 5-hybrid is your favorite choice.
Stable mid irons
The mid irons are stable and promote straight shots be which calls for outstanding performance.
Wedges have spin
The set's pitching and sand wedge induces optimal spin for superior greenside control.
Don't forget, In golf game, wedges clubs are made in such a way that it can hit shots with a high loft angle, allowing the ball to go high in the air and land softly on the green. When a golfer strikes the ball with a wedge, the grooves on the clubface grab the cover of the ball, creating friction and therefore spin. As a beginner, these might not be so important to you, but it will help you.
Cons Of Callaway Edge Set
❌ Lack of customization options may be a detriment to some golfers.
❌ The driver lacks adjustable feature which may be a hindrance to some golfers looking to make adjustments to their clubs
❌ Price point is a bit higher
Verdict
It's a recommended golf set, rated by pro golfer like Harry Higgs.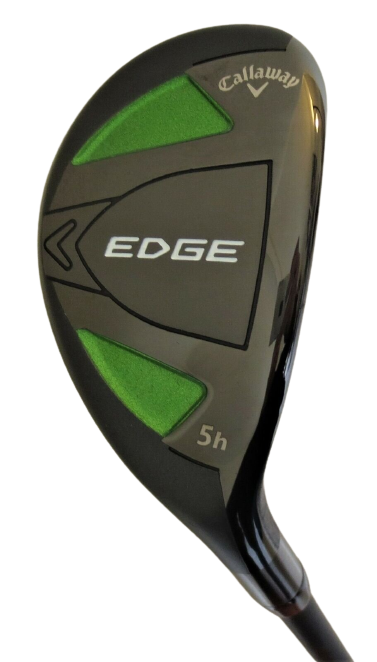 Callaway Edge Drive
Key Features
Explosive ball speed
Low center of gravity
Good turf interaction
Key Features Of Callaway Edge Set
The Callaway Edge golf set typically includes the following components
A Titanium Driver
The Edge 3-wood
Edge 5-hybrid
Edge 6-9 irons
Wedges: Sand wedge and Pitching Wedge
Odyssey Hot Pro Putter.
Let's go deeply into each if the components of this edge set
Titanium Driver
This Callaway Edge Driver review looks at the 10.5-degree Callaway Edge driver. It features an over-sized titanium head and a fast, thin face that produces optimal ball speed, even with off-center strikes.
The lightweight shaft construction adds to the accelerated ball speeds, combining with low CG (center of gravity) for a high launch to deliver optimal distance.
3-Wood
Like the driver, the set's 3-wood contains an over-sized profile. That allowed Callaway to position the center of gravity low, and apply perimeter weighting to promote high and straight ball flight.
The 15 degrees of loft on the club is standard for a 3-wood. However, some players may prefer a 16 or 16.5-degree option. This may be a bit tough to hit from thick rough but not to worry, there's something called hybrid! Read and know exactly what you have a hybrid for.
5-Hybrid
The Callaway 's 5-hybrid can be a good choice for golfers who struggle with longer irons and want a more forgiving club that is easier to hit.
That notwithstanding, having only one hybrid can limit a golfer's options and may not cover all distance gaps. This is the reason Callaway edge set adds a 4-hybrid which can help fill the gap between the 5-hybrid and 3-wood and provide more versatility in a golfer's choice of club.
Irons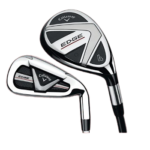 The Callaway Edge irons are suitable for mid and high handicappers. The set includes four clubs, ranging from a 6-iron to a 9-iron, with loft angles ranging from 26 degrees to 39 degrees. The set does not include longer irons, such as 3 or 4-irons, which are typically more difficult to hit.
The clubs feature perimeter weighting and a low center of gravity to help improve forgiveness and launch the ball higher.
They are designed to provide exceptional stability at impact to ensure a stable clubhead and straighter shot from many different lie conditions.
Wedges
Callaway added two wedges to the Edge set: a pitching and sand wedge.
The pitching wedge features an aggressive groove design that enhances shot-stopping power and spin on pitch and chip shots. This can be very helpful when trying to stop the ball quickly on the green or when trying to get up and down from around the fringe of the green.
The sand wedge, on the other hand, has a wide sole that helps it glide through rough and sand. This is an important component of the Callaway edge set because it helps to promote a clean contact between the ball and the club face which can lead to better shots and more consistent results.
Odyssey Hot Pro Putter
Another feature of the Callaway's Edge golf set is a simple Odyssey White Hot Pro putter designed for players with an arc stroke.
The putter is fitted with a Super-Stroke grip to reduce wrist movement and ensure stability through your stroke.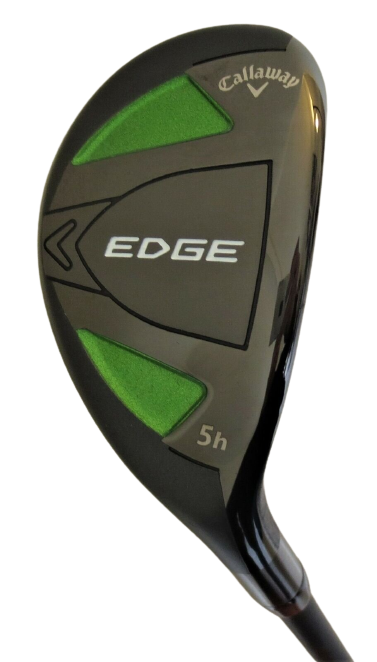 Callaway Edge Drive
Key Features
Explosive ball speed
Low center of gravity
Good turf interaction
Callaway Edge Set Review:

Best Alternatives
1. Callaway'sStrate Complete Set 
Callaway's Strate is a great alternative to Callaway edge set. It comes with a bag and an additional club.
For your long shot golfing, the set features a 12-degree driver and a 15.5-degree 3-wood.
Furthermore, Callaway included a 22-degree 4-hybrid and a 26-degree 5-hybrid, which can help eliminate the risk of gaping issues.
Compare to the Callaway edge set, the Callaway Strata set also includes a lightweight stand bag that is easy to carry over 18-holes. Verdict
The Callaway strata set is one of the best golf set in the market. And it's a direct alternative to the Edge.
2. Wilson's Men Complete Golf set
This 10-club Wilson set covers your game from tee to green. However, it does not include a 3-wood. The longest club in the set is a 10.5-degree driver, which is supported by a 5-wood and 5-hybrid. Considering that many amateurs struggle to get their 3-wood shots airborne, a 5-wood is an excellent alternative.
Wilson also added a pitching and sand wedge to the set to give you variation with your short game.
3. Cobra F-Max Set
The cobra F-Max Gold Set is specifically for Beginners and golfers with moderate swing speeds. A set of it includes a driver, fairway woods, hybrids, irons, and a putter, all of which calls for incredible forgiveness and distance for players with slower swing speeds.
It's one of the best alternatives to Callaway edge.
Frequently Asked Questions