Hope you've read our previous review – an in-depth comparison between a mallet style vs blade putters. Whether you are searching for the best mallet putters for high or low handicap golfers, this article is what you need. This page is the most honest review of the best mallet putters of all time. And below are our top picks.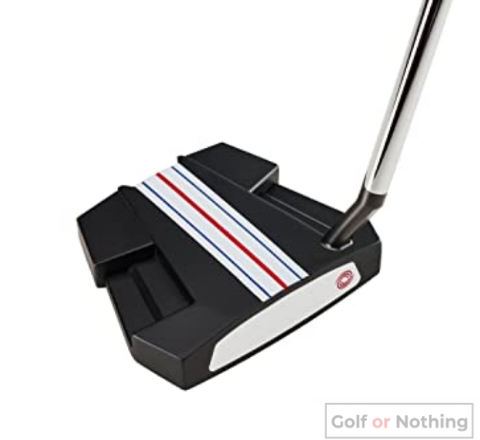 Callaway 2023 Eleven Tripple Track Puttter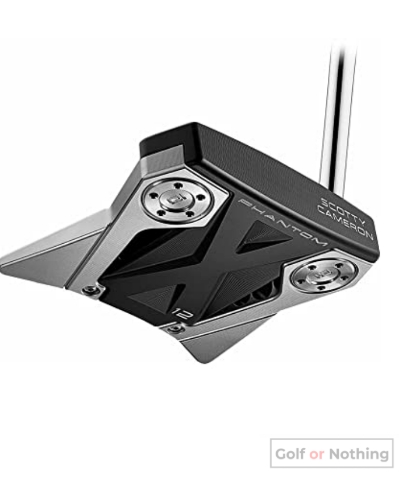 Titleist Scotty Cameroon phantom x
Facts About Best Mallet Style Putters
Design: mallet putter is a modern style putter with entire different shape from what traditional putters looks like. Mallet putters are designed with a larger clubhead shape with improved forgiving moment of inertia (M.O.I).
Shape: mallet putters feature a larger clubhead and perimeter weighting technology that's totally different from blade style putters as well. The club heads are of different sizes and type; round shape, square shape and semi-circle shape(half moon).
Forgiveness: mallet putters are the best and only options for golfers seeking extra forgiveness, that will curb those still struggling with short put.
Price and performance: considering your budget, mallet putters are cheaper than blade putters. The cheapest mallet putters to invest on include the taylormade spider and odyssey. However, need be for you to upgrade to a more powerful putter of this type, and which offer a slight different performance-ability and feel, but which require a slight higher budget too, try out the advanced scotty cameroon phantom x putter.
Mallet putters are heavy, flexible but also workable. The larger clubhead shape makes for a more consistent shot on target. I also found out that the Cleverland HB Soft milled putter has a slight feature of a hybrid putter too. The club combines the features and designs of both the mallet and blade putters.
Mallet putter is a heavier putting club suitable for golfers with slower putting green and smoother tempos.
Best Mallet Putters Of All Time
Callaway 2023 Eleven Tripple Track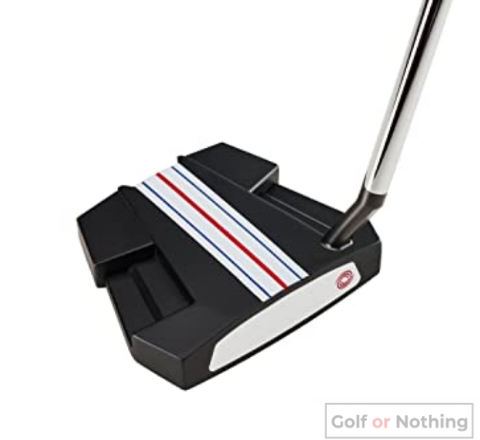 Why We Like It
Advanced forgiveness and alignment.

It features stroke Lab shaft that reduces weight by seven grams for better performance.

Increased MOI for added forgiveness and ball contact experience on the club face.

It features many alignment options for enhancing players Putting accuracy.
After our extensive testing process, we aligned to the fact that the odyssey eleven putter's high moment of inertia is very outstanding. It's is noted that a high or increasing moment of inertia in golf clubs means an increase in forgiveness, most especially when getting in contact with the ball on the clubs' outer edges. In this aspect of Odyssey 2023 eleven putter, the rule is not exempted. It's one of the clubs sported with relatively high MOI ti date.
Underneath, the odyssey eleven putter comes handy with a new elegant design, lightweight TPU, a steel crown and aluminum underbody design. It features a Stroke Lab orientated shaft design which is know to directly enhance a player's average stroke tempo.
Our Recommendation
We highly recommend the Odyssey Eleven Putter to golfers of all skill level and know-how. It's however specially aiming to most players struggling with short games.
Titleist Scotty Cameroon Phantom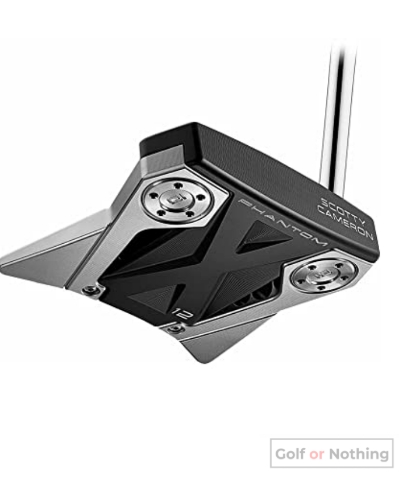 Why We Like It
Precision-milled 303 stainless steel face.

6061 aircraft-grade aluminum sole.

It comes with a standard forgiving clubhead and arc hosel for instant improvement on short games.

It is known for exceptional feel, comforting grips for increased confidence on shots.
The Scotty Cameron Phantom x 12 mallet style putter is undoubtedly one of the most premium, well built and durable high performance putters available as at this time. The club is likely suitable for players of all skill levels.
Golfornothing's Test Verdict
The 2023 edition of the Scotty Cameron Phantom X12 Putter offers and incredible levels of performance, consistency, accuracy, and of course durability.
The putter is known to an incredibly high moment of inertia (M.O.I.) value, which aid the club's forgiving ability and feel.
We highly recommend this putter to any golfer seeking a mallet putter with forgiving and exclusive features to enhance his putting style and performance. And most suitably if improving your short games is the aim.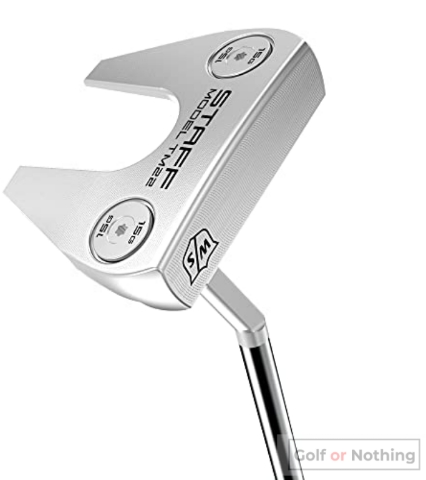 Why We Like It
The Wilson shaft TM22 Mallet Putter is built on a very high standard milled steel for added durability.

It spots a plain arc hosel design, feel and one of the most forgiving head design.

It's considered by many tour players as the best in performance currently.
Wilson golf has over the years contributed largely to the golf equipment industries by producing some of the best golf gears including golf bags, irons, and the Wilson SGI women's golf clubs complete set. The staff model TM22 putter is not exempted, but ranks top on our list of the best mallet Putters 2023 reviews.
Our Test Verdict
On the course of our detailed testing process, we found out the Wilson Staff Model TM22 Putter an incredible putter due to its high forgiving nature.
The Wilson Staff Model TM22 Putter utilized numbers of milling lines which allow players of any skill level to improve their alignment abilities, and shot accuracy.
Our Recommendation
The Wilson Staff Model TM22 Putter is highly recommended, with notable forgiving ability, accuracy on the green, and many consistent features worth checking out.
If you are on a journey to sanely improve your short game with an worthy forgiving putter, look no further than Wilson's Staff Model TM22 Mallet Putter.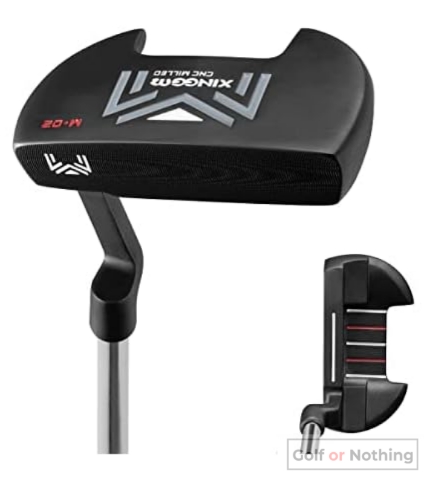 Brief Of What Inspire Us
Durability as formed from its sturdy high quality stainless steel.

Efficient distance control and consistent roll.

Grip that offers hand feel.
The XINGGM CNC Golf Putter is designed with your putting ability in mind. Its sturdy structure made a high quality 431 stainless steel makes for a more improved putts. It features a precision-milled face technology for efficient distance control and consistent impact on alignment.
The shaft comes with a high performance PU grip which offers a better hand feel to hold its anti-slip and anti-shock shaft. For this time, the XINGGM CNC putter is undoubtedly a perfect golf training aid for men golfers of all skill set.
Wilson Harmonized M5 Golf Putter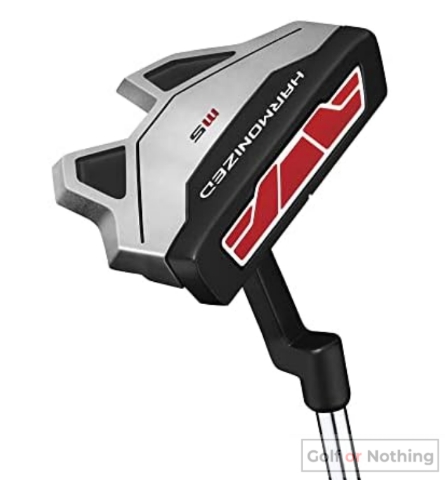 What We Like
Better roll and improved distance control.

Stable and comfortable grip.

Reduced hand pressure.
The Wilson Harmonized M5 is a Golf Putter designed for right-handed men golfers. It has a 34" length with a mallet style head and a new larger diameter grip size which reduce hand pressure and improves comfortable feel.
After testing this putter, we found out a micro-injected face insert , and multiple density area that add better improvement in distance control and better roll. It's one of the most elegant and durable putter designs in the market. Meanwhile, if you need to invest a little in a premium mallet style putter, try out the Wilson Harmonized M5 putter.
Orlimar Tangent T1 Red Putter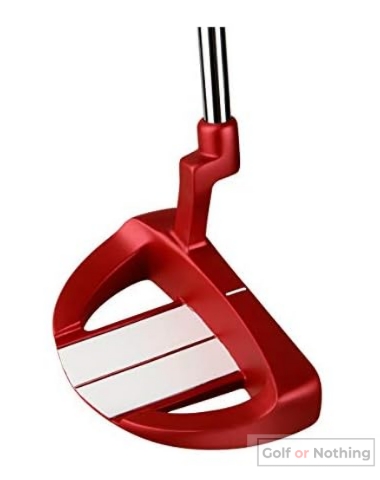 What We Like
One of the most forgiving mallet putters.

Easy-to-aim and shot with.

Offers consistent roll and feel.
If you are in search for the best forgiving mallet putter, the orlimar tangent T1 red putter is the catch. The manufacturer stated their invention was for the improvement on golf performance in mind. With its easy-to-aim mechanism, accuracy even on off-center shots are immeasurable. This function is made more easier with the bi-color sight line that enhances your view of the target line.
Golfornothing Reviews Crew: The club is superb, and a recommended club. It's premium fatures are running on a very affordable cost. The Tangent T1 Red Putter by Orlimar features a heel-shaft design with a plumber's neck, offset hosels that make it possible to position your hands ahead the putter at impact.
More about the club is that it's built on a soft TPU face insert technology that provides consistent roll and enhanced feel.
Gosport GS2 Tour Golf Putter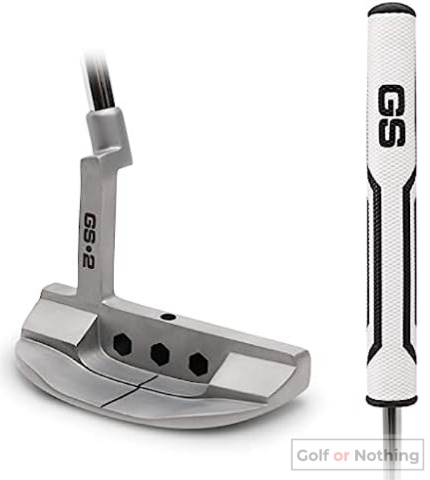 What We Like
Premium shaft, look and feel.
Two grips options available(fat grip and pistol grip).
Made by golfers, tested and used by pro golfers.
The Gosport GS2 offers options for both left-handed and right-handed players. It features a stainless steel head with a milled face that offers optimal contact and face roll. Out of a number of Gosports Clubs, the GS2 series boast the most premium quality materials, look and feel – with playing ability of 10x the putter's cost.
Most interestingly, you have the options of choosing between a textured fat grip or pistol grip that provide more optimal feel and accuracy on the putting green. It also comes with a padded cover for protection.
What We Like
Precision alaignment aid

High quality design and construction for improved durability.

PVD plated non-glare head for clear focus on ball's target point.
If you are in search of the best high quality mallet putter designed with enhanced performance-ability, consider the premium RG7 Rife mallet putter your best catch, at least now that it's still available.
Apart from the research we carryout, the club was already recommended on raw 2022 tournament as one of the most performing putters by top golfers. It is made with full exotic mallet design head style and small shaft over its offset shaft neck. With this golf putter, you are sure to achieve an unobstructed view of your golf ball on contact; precise and accurate alignment. Thanks to the black PVD plated non-glare head finish that reduces glare and distraction, ensuring a clear focus on your putts.
In a conclusion, the club also features a top edge cavity that helps in weight distribution, which further enhances your putting control, confidence and precision needed to improve your putting ability, and overall performance on your golf game. Try out more golf clubs needed for your golf game.
Frequently Asked Questions
Yes, several reasons ranging from size, weight  and shape make mallet putters more forgiving than blade putters.
Yes, pro golfers still use mallet putter since it commands more forgiveness than blades. Tiger woods recently switched from using his age-long blade putter to try mallet, and he made a record-breaking impact